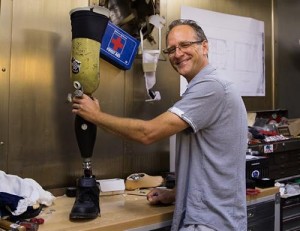 In each issue we'll feature a successful connection between a NEIdeas applicant and BizGrid organizations to give you ideas to grow your small business.
Congratulations to Anew Life Prosthetics and Orthotics, winner of a 2015 NEIdeas $10,000 Challenge Grant. Anew provides prosthetic (artificial limb) and orthotic (brace) devices. It will use the grant to purchase a new digital scanner to improve modeling, efficiency and effectiveness of artificial limb production.
Established in 2011, Anew has worked with DEGC for assistance with a buildout grant and tax incentives; the SBA for financing; Vanguard CDC for meeting space and networking; and SCORE for learning opportunities. Co-owner Chris Casteel noted that SCORE was one of the first organizations to recommend the NEIdeas grant challenge.
Casteel offers this advice for entrepreneurs: "Make sure you love what you're doing because it will become your life. Do your homework, network, ask questions, and expect your start-up to take twice as long as planned and cost at least twice as much. Make sure you give back to your community and your profession."