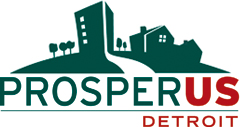 In each issue we'll feature a successful connection between an NEIdeas applicant and a BizGrid organization to give you ideas to grow your small business.
Helen Shaw, owner of Model Behavior Hair Salon, was ready to move her salon to a new location, hire additional stylists and sell hair products, but needed funding to make it happen.
In stepped ProsperUS Detroit (http://www.prosperusdetroit.org/) an entrepreneurial training and micro lending program for Detroit residents, particularly those who are African-American, Arab-American or Latino.  The goal of ProsperUS is to help entrepreneurs develop successful businesses, thus strengthening Detroit neighborhoods, creating jobs, serving residents with new goods and services, and cultivating community-based leadership.
ProsperUS encouraged Helen to take their entrepreneurial training, a prerequisite to apply for a small business loan.  "I learned how to keep my finances in line, as well as how to use marketing and social media to promote my business," Shaw said.  She celebrated her new location in November 2014 with a ribbon cutting ceremony and business has exceeded her expectations.
"Our lending is relationship driven, and our borrowers submit financial statements on a regular basis.  If a problem comes up, we can offer technical assistance immediately to help,"  said Kimberly Faison, director, ProsperUS.
"Entrepreneurs need to know there's help out there for them.  Know what you need to grow your small business and be strategic about the resources you seek out.  That's where the  BizGrid can really help," Faison said.