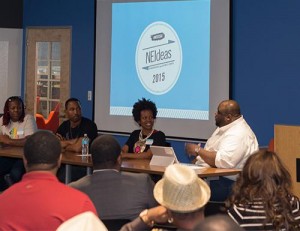 Information sessions are part of DEGC's ongoing commitment to connect every business that applied for NEIdeas to the BizGrid services they need for growth. The most recent session was held September 23 at TechTown and focused on hiring new staff, one of the most commonly expressed needs among 2014 NEIdeas $10k applicants and a top-five need among $100k applicants.
DEGC partners that evening included BUILD Institute, Goldman Sachs 10,000 Small Businesses (GS10KSB), PricewaterhouseCoopers (PwC), Detroit Employment Solutions Corporation and Community Ventures. All of these organizations can help your small business figure out when it's right to add new employees and help you find the right employees when you're ready.
A panel of BUILD Alumni, including April Anderson, Good Cakes and Bakes; Callie Bradford, GO! Smoothies; and Bryant Owens, EverButter, offered their tips for hiring, including:
Remember the importance of culture. Hire team members who believe in the mission of your business.
Family can be a great source of coworkers, even co-owners, but it's not always the best fit. Do what works best for your business and remember to treat everyone like an employee. Things work best when everyone has a defined role.
GS10KSB alumni Espy Thomas, Sweet Potato Sensations; Steve Guzina, Tijuana's Mexican Kitchen; and Chuck Nolen, Cutter's Bar and Grill offered advice on how to manage a growing team including:
Document everything. Keep records of the mission and vision. Write down your procedures and build an employee handbook. Having records everyone can see and follow builds a cohesive team and makes the manager's job easier.

As you grow your team, empower them and trust them to do the day-to-day work they were hired to do. Like having a strong handbook, this builds a capable team that allows you to focus on your job as an owner.
For more information on these programs, visit www.detroitbizgrid.com or call 844.NEI.DEAS.